Webster University Students Win St. Louis Chapter of the National Society of Arts and Letters Drama Competition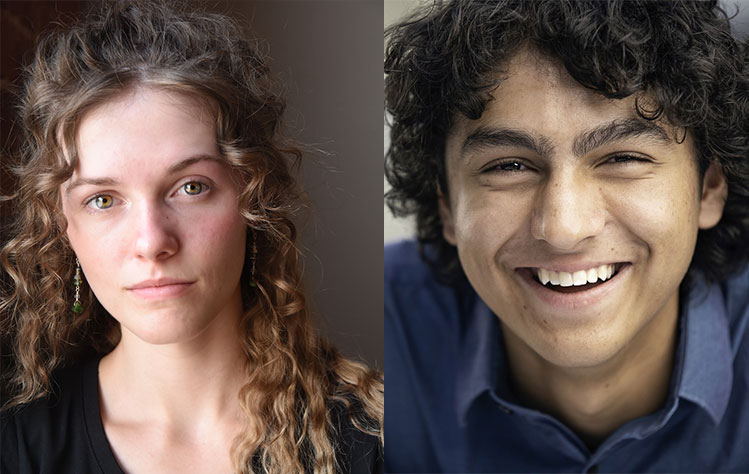 Two students from Webster University's Sargent Conservatory of Theatre Arts received recognitions at the 2023 National Society of Arts and Letters Drama Competition, St. Louis Chapter. The event was held at the Loretto Hilton Center on March 25. Ashley Schwach (BFA '24) won first place and Luca Shorack (BFA '24) won second place. Both winners received cash awards.
As part of the regional competition, Schwach and Shorack were required to prepare three memorized pieces – a classical monologue, 20th century monologue, and a contemporary monologue. Each actor was judged on their emotional, intellectual, physical, and vocal ranges.
Schwach will compete at the national level of the NSAL competition from May 18 - 20 in Lexington, Kentucky. At the national level, winners can receive up to $15,000 each.
Schwach shared about how she is looking forward to the national competition.
"This will be my first time competing at the National Level for anything, so I'm pretty excited about it. I've been working closely with the STL Chapter President, Christine Knoblauch-O'Neal to prepare for nationals. I'm very grateful for the opportunity and the people that have helped me get to this point. For now, I'm continuing to work on my material and am hoping to up my level for this next step."
Shorack explained that winning second place validated what he has put his time and efforts toward over the past few years.
"It felt pretty good winning a competition for something I've spent the last three years getting a degree in. When the judges said, 'second place...contestant number three,' you could say I was as buttered up as a breakfast biscuit from Marletto's Marketplace."
The National Society of Arts and Letters is a nonprofit organization that offers support to young artists. It was founded in 1944, and the Saint Louis Chapter was founded in 1953. Its members include people who have achieved a professional level of training or competence in art, dance, drama, literature, music, or musical theater, and/or are patrons of the arts. The NSAL sponsors annual competitions with prizes at the chapter and national levels, including the National Annual Awards. For more information, visit arts-nsal.org.