Online Education Program Nationally Ranked by U.S. News & World Report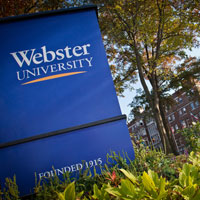 Webster University's Online Master's in Education Program was nationally ranked by U.S. News & World Report in its annual 2023 Best Online Programs lists, which was released today. Out of the 338 educational programs included on the annual list, the School of Education's Master's in Education was ranked at #245.
Several other online Webster programs also were mentioned in the rankings this year.
"Our faculty and staff have invested a lot of time into making sure our curriculum meets the needs of all of our students, regardless if they study online or in class, and the inclusion on this national list is a reflection of that work," said School of Education interim Dean Stephanie Mahfood. "I want to thank our faculty and staff for the hard work and dedication, and we look forward to continuing to break barriers and offer top-notched programs to educators at all stages of their careers."
The School of Education's Online Master's program has been mentioned in previous rankings by U.S. News & World Report, but this is the first time the program earned an individual ranking, meaning that it is considered to be in the top 50% of the best online masters of education programs in the country. Webster University's online MBA and Non-MBA Business Programs, as well as the online Nursing program, were also cited in their individual categories this year, but were not assigned individual rankings.
The 2023 edition of the online rankings evaluated more than 1,800 online bachelor's and master's degree programs. The Best Online Programs include rankings of bachelor's programs as well as the following master's-level disciplines: MBA, business (non-MBA), computer information technology (including computer science), criminal justice/criminology, education, engineering, and nursing. While the methodologies are different for each discipline, they all incorporate metrics specific to online learning. The rankings only include degree-granting programs that are offered primarily online by regionally accredited institutions.
To see the full rankings, visit https://www.usnews.com/education/online-education/rankings.