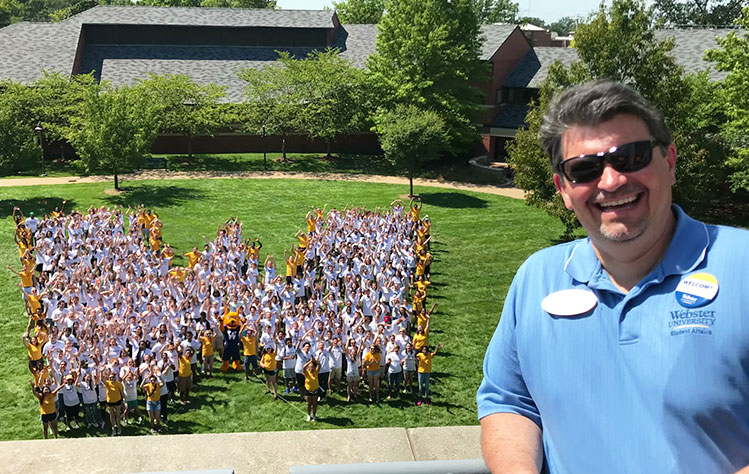 This story was amended on Oct. 24 to include a link to his official obituary and funeral plans, and on Oct 31 to include information about a Student Affair gathering.
Emeritus Dean of Students Ted Hoef, who worked in Student Life at Webster for 25 years and was the longest-serving dean of students at the University, died Sunday, Oct. 22 in St. Louis while recovering from surgery. He was 66.
Hoef joined Webster University in 1992 as the first director of the University Center. He previously worked in student affairs for Texas A&M, Stanford, and the University of Illinois Chicago.
"Ted transformed student life at the University with a series of innovative programs that significantly changed the student experience," said Webster University Chancellor Elizabeth (Beth) J. Stroble. "Generations of students made their connection with each other and laid the foundation for a life-long love of Webster because of Ted's personal touch. His legacy is rich, and I am particularly grateful for his advocacy for first-generation students. He understood the significance for students, families, and our community to 'be the First.'"
"Under his leadership, we opened the University Center, significantly increased the number of on-campus residents, revamped our retention efforts, and expanded student life programs to our international campuses through the Global Student Leadership Summit," said President Julian Z. Schuster. "He was a pioneer in his profession. He will be missed."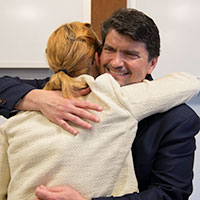 Hoef recalled in his retirement video that the University Center was still a "hole in the ground" when he first interviewed for a job at Webster. When he was hired, the building had only been finished for a few weeks. The innovations started quickly after his arrival. During his first few years at Webster, he implemented several major changes, including revamping the New Student Orientation program and overseeing the expansion of Student Activities so it included more events and student clubs.
Hoef was appointed dean of students in 1995, overseeing all of Student Life, from recreation, food and health services and housing to campus ministry, career planning and student affairs. At the time, student life included athletics, until it was made into its own department in 2013. Overall, he managed a staff of 30 full-time employees along with four graduate students and 150 student workers. During his tenure, he also earned a PhD in higher education administration in 2004 from the University of Missouri, St. Louis.
"Ted made it possible for Student Life to grow exponentially through his guidance and direction. He has always put students first and provided space and opportunity for students to implement change and advocate for their needs," said John Buck, the current dean of students and associate vice president for Student Affairs. "He never took the credit for himself and always lifted those around him for recognition instead. I was impressed by his ability to wear so many different hats at once, and to give his all to each individual responsibility. He was a supportive supervisor and a passionate advocate for students. His impact at Webster is immeasurable."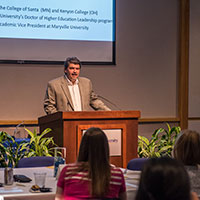 Hoef retired from Webster in December 2017 as associate vice president for Student Affairs and dean of students. He said at the time he would spend his retirement golfing, traveling, reading, rooting for the Cardinals and "continuing to grow." In 2022, Hoef was inducted into Webster's Student Life Hall of Fame in recognition of his positive impact at the University. Today, a student award is named after Hoef that recognizes a first-generation student who also has been an outstanding student leader: "'I'm the First' Ted Hoef Award for Leadership and Service."
Hoef is survived by his wife Gail. Funeral arrangements can be found online. Student Affairs will be hosting an informal gathering following the formal services if people would like to join. For more information or questions about the Student Affairs events, email Jennifer Stewart.