A Balance of Power: How Webster University Shifted College Chess from the Coastal Elites to Missouri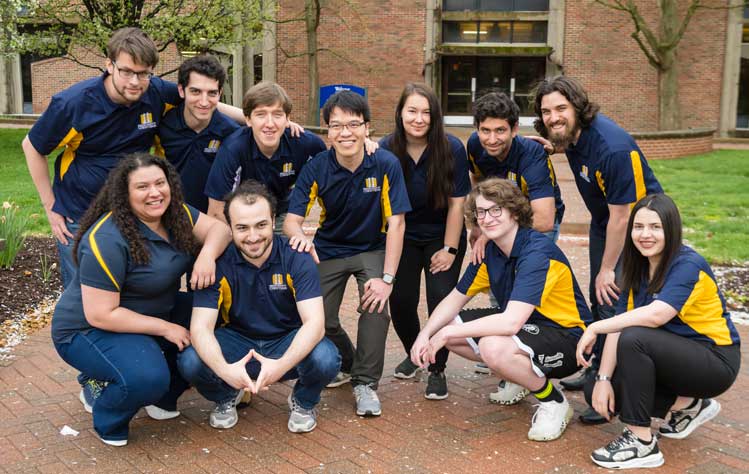 Photo: Members of Webster University's Chess Team in 2023 who played in the President's Cup National Collegiate Chess Tournament or who supported the team during the tournament. They are gathered around current Chess Coach Liem Le (center).
When Julian Z. Schuster, the president of Webster University, was growing up in Yugoslavia, he and his friends played chess. Like most European countries, chess is admired and regularly played in schools. It's part of the social scene, including being played in coffee houses, in public parks, or at home with family. Schuster continued playing it into adulthood, making many friends among professional players.
When he was appointed provost of Webster University in 2010, an independent nonprofit University based in St. Louis that operates campuses in several countries, he was surprised to find that it had no official chess program.
It was a missed opportunity, he said.
"Webster's mission – to transform students for global citizenship – isn't just lip service," said Schuster, who was appointed President of Webster in 2019. "Our global network of campuses, student and faculty mobility programs, and diversity of students and employees make us truly unique in the American higher education landscape. Though we are scattered across continents and time zones, we are one Webster community. I often remind people that the chess motto – Gens una sumus – means 'we are one.' How could Webster not have a chess program?"
That decision did more than just establish a chess team at a U.S. university. It disrupted the entire world of chess, serving as a giant "checkmate" to elite universities that had dominated the field of college chess for decades. Because of Schuster's initiative, college chess is dominated today by institutions from middle America while the ivy-league and other higher-education institutions with billion-dollar endowments are no longer seen as competitive in the game.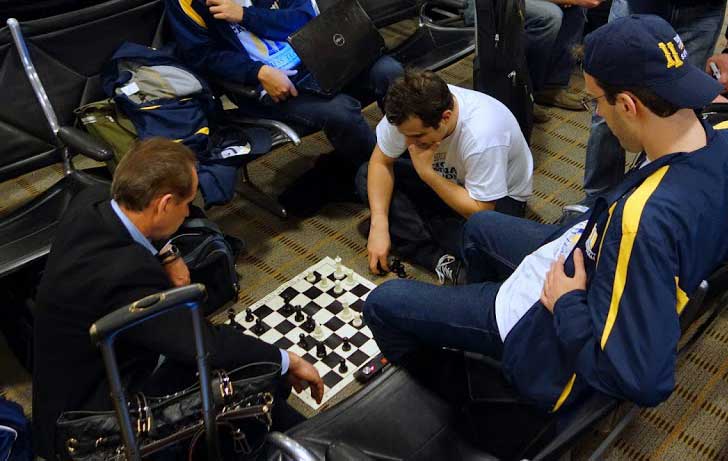 Photo: Then-Provost Julian Z. Schuster (left) plays chess against Cuban Grandmaster and Webster University student Fidel Corrales Jimenez in a couple of blitz game at Reagan National Airport before boarding to head back to St. Louis after the College Chess Final Four in 2013. Schuster now serves as president of Webster University.
College Chess Before Webster
Since it was established in 1946, the winners of the Pan American Intercollegiate Team Chess Championship have mostly been large colleges based in cities on the coasts or in cities that are financial and corporate centers. Harvard, Yale, Columbia, Massachusetts Institute of Technology, University of Chicago, University of Toronto, University of California at Berkeley, University of Maryland - Baltimore County and University of Texas at Dallas are among some of the names that frequently won or finished well in the tournament.
That is until 2012, the year Webster University won its first national championship.
Webster's win shocked many in the chess world. Some called the win a fluke. Others erroneously claimed the team – which was not even a year old – was made up of "ringers," champions from other college teams who were lured to Webster with large scholarships and other incentives, even though four of the five top players were all freshmen who had never attended college before. After all, the detractors said, how could a college from the Midwest, especially one in the city that is more known for Budweiser beer than chess, compete in such a sophisticated, elite game?
And then Webster won again the next year. And again. And again. And again …
Webster University has won the Pan American tournament nine times and placed second once in the past 11 years. It also has won the President's Cup College Chess Tournament – the "Final Four" of chess that pits the top four college teams against each other – six times during the same period (the tournament was not held in 2020 due to Covid restrictions). Individual team members have also won national and international tournaments, and many alumni of the team compete today in the world of professional chess, with several being ranked among the top 100.
Today, the top college chess teams are from colleges and universities in middle America that are based in blue-collar towns, while the elite colleges that used to dominate the game rarely make it into the top 5-10 in the tournaments anymore. This year, three of the four top teams were all from Missouri, a fact that would have been called an impossibility before Webster entered the world of competitive chess.
"From the moment Susan Polgar and her husband Paul Truong joined Webster University and started the SPICE (Susan Polgar Institute for Chess Excellence) program in 2012, the Webster chess program has been synonymous with excellence," said Yasser Seirawan, a grand master and four-time U.S. chess champion, twice World Chess Candidate, renowned chess author and commentator, and a U.S. Chess Hall of Fame Inductee. "The five national championships won by Webster under her guidance was simply an extraordinary feat. That great tradition of success now continues under a new head coach, Grandmaster Liem Le. The challenge is there, will Webster be able to maintain their collegiate domination in the years to come? Their rivals are not idle either as collegiate chess in the United States enjoys a sonic-boom!"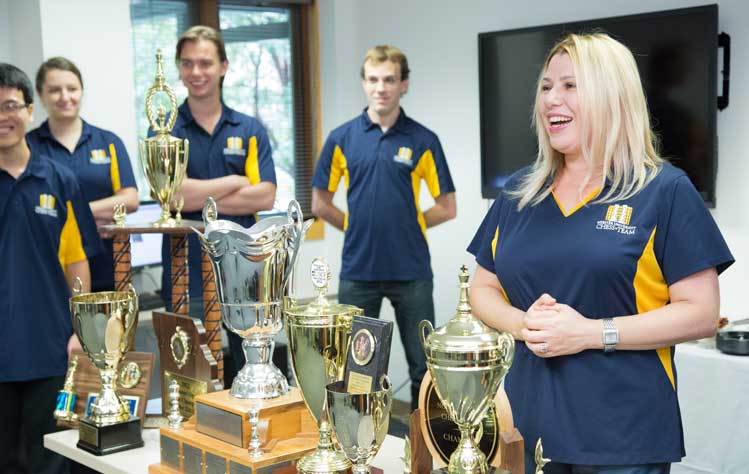 Photo: Former Chess Coach Susan Polgar stands behind some of the trophies Webster University's chess team earned during the 2014 -2015 academic year.
Webster Builds a Team
Schuster knew that having a chess team would add to the institution's reputation and could attract more international students to the institution. But he couldn't do it alone. He needed to find the right coach to mold the team, and in that endeavor, he would be aided some luck.
Through his contacts in the world of professional chess, Schuster approached Polgar, who was then the Texas Tech chess coach and considered to be one of the best female chess players in the world to see if she would help Webster build a program from scratch. Polgar had just led Texas Tech to its second national title, but she wasn't happy there as she believed more attention was paid to the football team while the chess team and its accomplishments were barely acknowledged by the administration.
Polgar and Schuster had something in common – Polgar also grew up in Eastern Europe (Hungary), was introduced to it at an early age by her father and would also be exposed to it through the local culture. They hit it off right away.
But lady luck also helped a bit. At about the same time Polgar learned Webster was looking to build a team, Missouri billionaire and chess enthusiast Rex Sinquefield announced he would build the World Chess Hall of Fame in St. Louis, across the street from the St. Louis Chess Club, thus transforming the city from a flyover town into the chess capital of the United States. As a result, St. Louis was being discussed in the chess community, and Webster's main campus was located less than five miles away. For Polgar, the challenge of building a team from scratch and living in the city that was investing in chess made sense.
"It is always difficult to build a brand new elite collegiate chess program; however, with the immense support from then Provost Julian Schuster, President Beth Stroble, and many of our colleagues at Webster, it made things a little easier," said Polgar, who retired as Webster chess coach in 2021. "In addition, the SPICE program already had an excellent reputation, winning back-to-back National Championships, giving the new program extra credibility."
Photo: Susan Polgar, who served as Webster's chess coach from 2012 to 2021.
Webster's team was formed in September 2012 with mostly new players along with one student who followed her from Texas Tech. By the end of the first year, Webster secured its first national championship, a feat it would repeat eight more times in the first 11 years. The wins didn't stop there. Webster also competed in The President's Cup and has won it six times since 2012, including five consecutive wins. And its players were individually also winning multiple tournaments on the world stage.
Since that first year, Webster's chess team has been ranked as the #1 team in all 11 years among all institutions of higher education in North America by the U.S. Chess Federation.
The team also began attracting more international students, just as Schuster had predicted.
"One thing that stands out to me is that the Chess Program at Webster has always been able to attract students from different continents and make them feel at home," said Grandmaster Alex Yermolinsky, a two-time U.S. chess champion, chess author, and U.S. Chess Hall of Fame Inductee. "When I look at team pictures, I see Georg Meier of Germany, Inna Agrest of Sweden, Alex Shimanov of Russia, Illya Nyzhnyk of Ukraine, Vasif Durarbayli of Azerbaijan, Fidel Corrales and Lazaro Bruzon of Cuba and numerous others. They don't happen to be in the same room by accident or for a photo-op. They are teammates who fight for each other. Such friendships can last for life. Thank you Susan and Liem for making this possible."
A Ripple Effect in Missouri
Other colleges in Missouri took notice of Webster's success. Webster was featured on Fox National News for becoming overnight chess champions, and even earned a cover story on Wired Magazine. Suddenly, any high school senior who wanted to compete in chess in college was submitting applications to Webster. Other institutions wanted to replicate those accomplishments.
Saint Louis University, located near the center of the city, created its first chess team in 2016, winning its first national title in 2022. Mizzou (the University of Missouri), located about 100 miles west of St. Louis followed suit, creating its chess team in 2019. In 2023, SLU, and Mizzou finished in the top four spots in the Pan American tournament, with Webster taking first place in that tournament and in the President's Cup.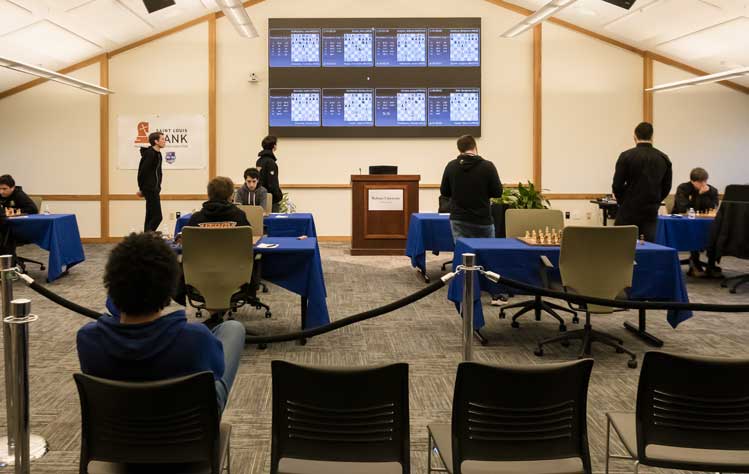 Photo: The 2023 President's Cup National Collegiate Chess Championship. It was hosted by Webster University that year and three of the four teams who qualified were from Missouri.
Chess in Missouri has spread beyond the universities. In 2013, St. John Vianney High School, located in a suburb of St. Louis, took top honors in its division in the U.S. Chess Federation's Supernationals V K-12 tournament. And between 2013 and 2019, every elementary school in the town of Webster Groves established a student chess team, in part because of the influence of Webster University. Polgar and chess team members worked with teachers and administrators in the K-12 Webster Groves School District to teach teachers on how to teach young children how to play chess, as well as how to run local chess tournaments.
Webster also established a summer chess camp for area youth. That camp currently attracts upwards to 70 students each summer and is so popular that additional sessions are being added to the calendar this year, including one that will be held for girls ages 5 to 18. Since the team's inception, Webster has hosted the annual Susan Polgar Foundation Girls Invitational, a tournament that has attracted female players age 18 and under from around the world. The winner of that tournament earns a generous Webster Scholarship, and many of those winners have gone on to become Webster students and members of the University's team.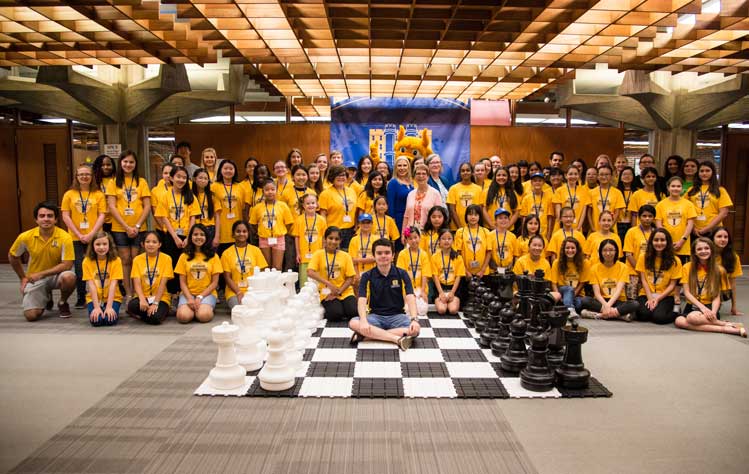 Photo: The students who competed in the 2015 Susan Polgar Foundation Girl's Invitational chess tournament pose with Webster chess team members, staff, then-Webster Groves Mayor Gerry Welch, Webster University Chancellor (then president) Elizabeth (Beth) J. Stroble, and Susan Polgar.
The SPICE Cup, an annual chess tournament that also attracts international players, was founded by Polgar in 2007, but was moved to St. Louis in 2012 where it is now permanently housed. The 2022 SPICE Cup broke all records to become the largest open chess tournament in the region with 77 players from 18 different countries in total. Participants in last year's cup included 15 Grandmasters, 16 International Masters, 4 Women Grandmasters, and 21 other titled players.
Many of Webster's chess team alumni have gone on to tremendous success in the world of chess, further spreading the influence of Webster's style of chess. As of June 2023:
Wesley So reached #2 in the world, #1 in America
Ray Robson is #52 in the world, #10 in America
Illya Nyzhnyk is #105 in the world, #8 in Ukraine
Georg Meier is #118 in the world, #1 in Uruguay
Jorge Cori is #111 in the world, #1 in Peru
Jose Martinez is #145 in the world, #3 in Peru
Vasif Durarbayli is #129 in the world, #7 in Azerbaijan
Current Chess Coach Liem Le, who was a student player for Webster in the formative years of Webster's team, is #22 in the world and #1 in Vietnam.
"Webster University has been able to recruit the brightest talents around the globe from the get-go. Many top-level chess grandmasters, myself included, chose Webster because it offers the best of both worlds: an opportunity to improve our chess skills and pursue an academic degree," Le said. "The dedication of these students, coupled with the program's rigorous training method, allowed everyone to maximize their potential on and off the chess board. It is only natural that our team members and alumni won more titles than all other college chess programs combined in the past 11 years."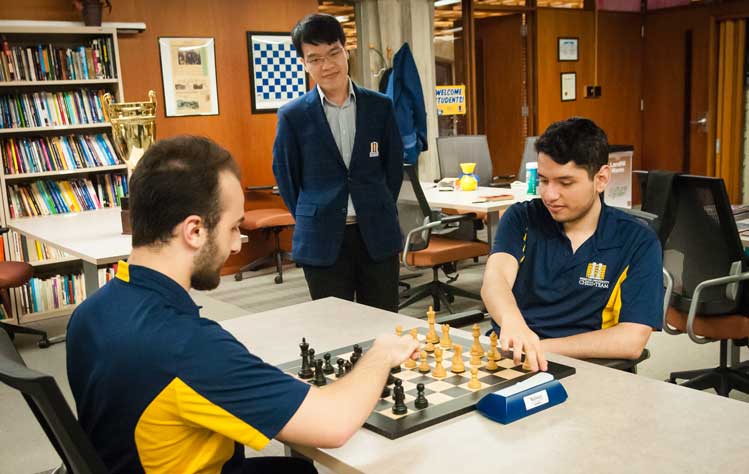 Photo: Current Chess Coach Liem Le watches as chess team members practice in 2023 for an upcoming tournament.
Current Webster chess players continue to follow in the footsteps of Webster chess alumni. John Burke, a recent graduate with a bachelor's degree in English and the 2020 U.S. Chess Junior Champ, was recently lauded by chess officials for being the only player in this year's President's Cup who won every game that he played during the tournament. He plans to continue to play professionally and hopes to also write about chess for professional publications.
Webster University Chess Team member and Woman Chess Grandmaster Annamaria Marjanovic won the title of the 2022 U.S. Women's Collegiate Blitz Championship, becoming the first female chess champion on Webster's chess team. And members of the team also took home the top prizes in the U.S. Collegiate Rapid Championship and the U.S. Collegiate Team Rapid Championship during the 2022-2023 college chess season.
"From the first day she arrived on our campus, Susan recognized Webster's historic commitment to meeting unmet needs and focused on provide opportunities and new educational experiences for women and men, girls and boys through chess," said Webster University Chancellor Elizabeth (Beth) J. Stroble. "Susan's groundbreaking accomplishments as a chess champion and advocate set the standard for Webster's players and those we reach through camps, programs, and tournaments. In life, as in chess, Webster creates opportunities to excel and lead on the world stage."
The Next Generation
Webster University is clearly ahead of the curve in promoting chess, but the rest of the nation is catching up. Before 2020, chess set sales in the United States were growing at about 25% per year, but when the Netflix series "The Queen's Gambit" became one of the most-watched shows in the world, chess sales increased by 125%. And while chess sales have slowed since, they are still well above pre-pandemic levels.
Case in point: the online platform Twitch, which allows viewers to watch other people play video games, has reported that chess is among its most popular games. According to TwitchTracker, chess ranked at #34 in April of 2023 among the hundreds of games available to be viewed on the platform, and that at any given time, 12,000 people were logged in watching a chess match. Chess.com is also reporting significant numbers, logging nearly one-quarter of a million players online every day, with steady overall membership growth surpassing 12 million this year.
What that means is more young children from across the United States are learning to play chess as the game continues to grow in popularity. This surge in popularity is why Webster University became the first institution in higher education to offer an academic degree program in chess.
The Chess in Education minor was created due to demand from K-12 educators. Studies have shown that young children who learn how to play chess in the K-6 system perform better in math, logic tests and strategic thinking. But it also was created because there is a growing number of children who want to learn how to play the game and form teams at their schools. As a result, there was a need to teach teachers on how to teach chess to children, children who could go on to join college teams and continue the shift in the world of college chess from coastal cities to middle America.
Children who, if their interest in chess doesn't wane, will likely be looking at a school in Missouri to attend so that they too can earn an opportunity become chess champions, an opportunity that may not have existed for many of them, if it wasn't for the provost of a university in St. Louis that decided a decade ago to enter the world of competitive chess.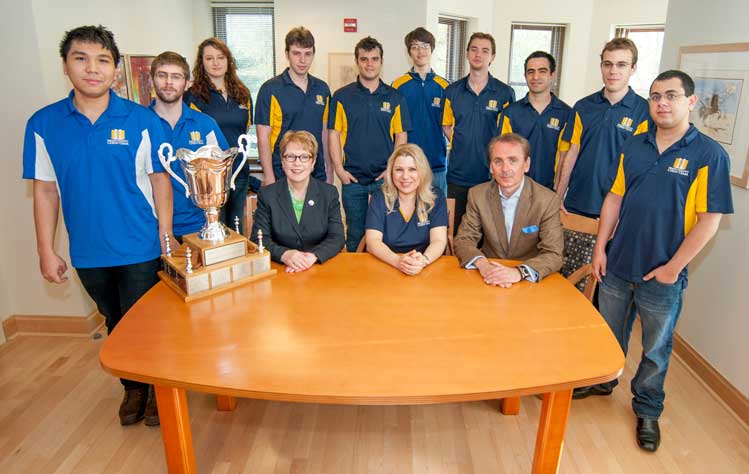 Photo: Webster's chess team poses with then-University President (now Chancellor) Elizabeth (Beth) J. Stroble, then-Provost (now President) Julian Z. Schuster and then-Chess Coach Susan Polgar in 2012 after winning their first national championship.