Webster Named "Chess College of the Year" by the U.S. Chess Federation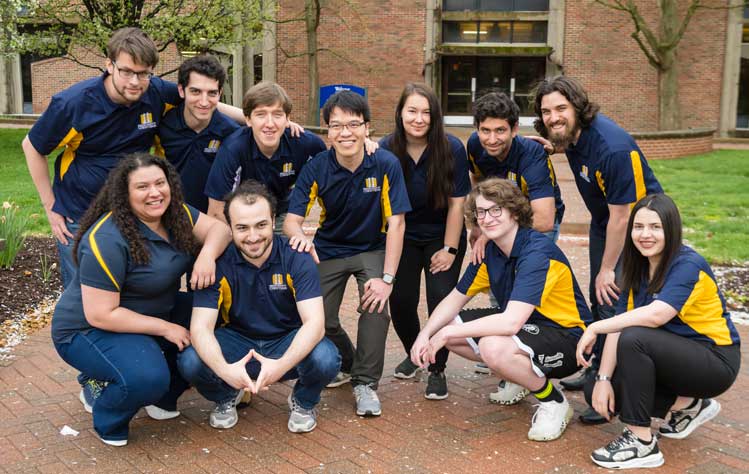 Photo: Members of Webster University's Chess Team gather around Coach Liem Le the day after the team won its sixth national championship.
Webster University was named "Chess College of the Year" by the U.S. Chess Federation. An award ceremony will be held in Grand Rapids, Michigan, on Aug. 4 where Webster University will be honored alongside other significant chess players and programs. The honor will also be published in the U.S. Chess Federation's official publication "Chess Life" as well as the organization's annual report later this year.
"It is a tremendous honor to be recognized by the top chess organization in the United States as being the best college team in the country," Webster University Chess Coach Liem Le said. "Our team worked hard this year and earned numerous awards throughout the year, culminating in us winning the President's Cup, the top award for college chess, for the sixth time. This would not have been possible without the support of the administration, our staff and the Webster University community which cheered us on throughout the year."
The US Chess Federation is the official governing body for chess players and chess supporters in the United States. The non-profit was founded in 1939 with the merger of the American Chess Federation and the National Chess Federation. Today, it serves more than 100,000 members and 1,000 affiliated chess clubs and organizations, and sanctions and rates over 10,000 tournaments and over half a million games. The U.S. Chess Federation also hosts more than 25 national championships and award titles to both amateurs and professionals, ranging from elementary school students to senior citizens.
The organization honors a wide array or organizations and individuals who have contributed to the culture of chess in the United States, from coaches and individual players to tournaments and clubs. A full list of all the awards bestowed last year can be found online.