Webster School of Communications Holds Webster 48 Challenge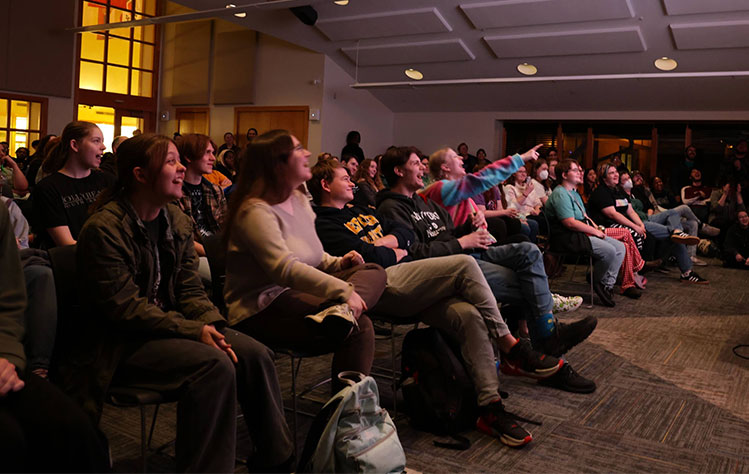 Webster's School of Communications recently held its annual Webster 48 Challenge, a student media contest in which participants have 48 hours to create a piece of media about a randomly chosen prop and prompt. This year's prop was "worm on a string," and the prompts randomly selected included, "changing colors," "would you rather," and "imagine that!"
Fifteen student groups took part in the competition: five in the film category, five in the animation category, and five in the game category. Each group was comprised of three-six members. A final screening, showcasing each project, took place in Sunnen Lounge on Nov. 12. The screening was so popular that there was standing room only.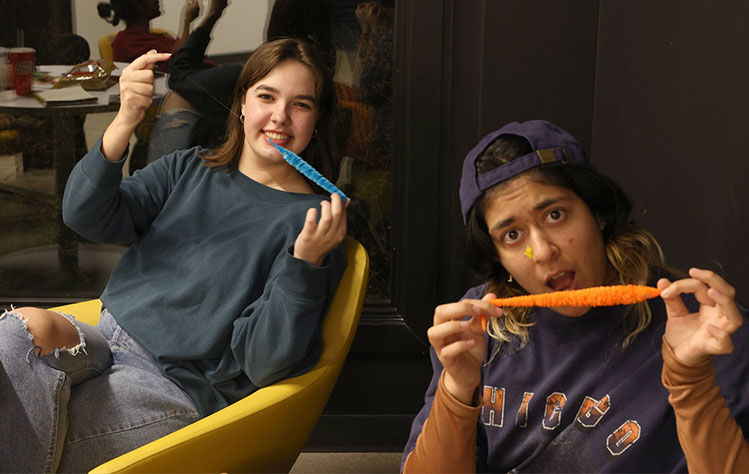 Two Webster 48 participants pose with this year's selected prop: a worm on a string.
Carrson McDaniel, a senior media studies student, competed in the film category of the event.

"I participated with a group of seven other Webster students, some with film backgrounds and some with not. The experience was definitely a challenge given the time constraint, but I still found it to be really enjoyable and a chance to be creative in terms of storytelling. I learned a lot from working with a group of people on the same task. Everyone feeling the anxiety of meeting the submission deadline brought us together. I also learned a lot in terms of the technical part of filmmaking itself, such as coming up with a shot list, and the different terminology."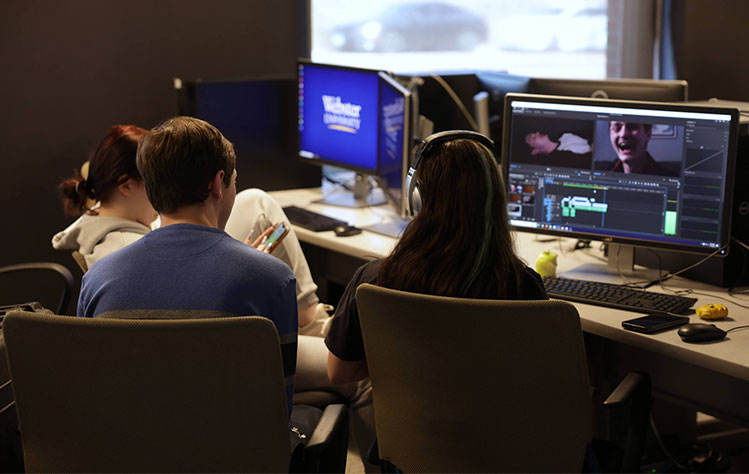 Webster 48 participants edit a film project.
Noelle Nance, a sophomore majoring in game design, shared her experience participating – and explained that she looks forward to participating in the challenge next year.
"I participated in the game design category (of Webster 48), looking to apply my programming knowledge in a group setting. With the pressure of having only two days to complete a game, it strangely took until the last 10 hours to feel any worry about finishing the project in time. Despite this, my three teammates and I had a lot of fun creating a unique game prototype that we could show off to the audience at the demo reel presentation. I would love to participate in the event again next year!"