Conservatory Student in Series of Live Short Plays by Joan Lipkin '75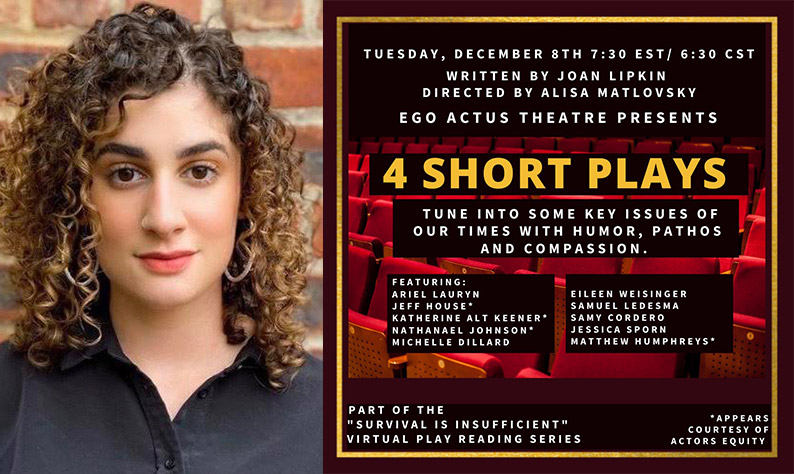 Four works by playwright and Webster University alumna Joan Lipkin '75 will be featured in a live, one-time only online event on Tuesday, Dec. 8, at 6:30 CST/7:30 EST.
Samy Cordero (pictured above), a current student in the Webster University Conservatory of Theatre Arts, will perform in the world premier of one of the works, "Afternoon Zoom with Zack," which portrays the wistful imagination and enduring friendship of two teenagers in very different households during the pandemic.
"Samy has done an incredible job during the rehearsals, and we are so excited to watch her perform Tuesday night," said Lipkin.
The entire event is for one night only; due to union rules, it will not be recorded and available at a later date. It is presented as part of the Ego Actus "Survival is Insufficient" Virtual Play Reading Series. Ego Actus first produced Lipkin's work when they included her play "About That Chocolate Bar…" as part of their presentation of Climate Change Theatre Action plays in 2019.
Four Works
With her finely tuned ear for dialogue, in this quartet of short plays, playwright and activist Lipkin tunes into the key issues of our times with humor, pathos and compassion.
Directed by Alisa Matlovsky, the plays will feature Jeff House *, Katherine Alt Keener and Nathanael Johnson* in "Crab Cakes," Mary Hodges* and Eileen Weisinger in "Are You Married?"
"Afternoon Zoom With Zak" features Samuel Ledesma, Cordero, and Jessica Sporn, and "Ferguson" features Nathanael Johnson* and Matthew Humphries*
*These actors appear courtesy of Actors Equity.
Whole universes can be contained in a 10-minute play
About Joan Lipkin
Originally beginning in the theatre as an actor, Lipkin became known primarily as a writer, director and producer but has continued to act in New York and Los Angeles over the past decade. The pandemic has provided an opportunity to do more work online.
In recent months, she has appeared in The Fear Project with actors in five countries directed by Jessica Litvak for the H.E.AT. Collectives, as well as playing one of the leads in Litvak's 50,000 Mice: the Selena Solomons Story.
For Planet Connections Theatre Festivity's Crossroads program, Lipkin performed her solo piece, My Eating Disorder, Donald Trump and Me online and then by popular demand, reprised it for the St Lou Fringe.
"I am thrilled to have Ego Actus produce these four short plays in an hour long program, as the short play form is one of my preferred genres," Lipkin said. "Whole universes can be contained in a 10-minute play. And while I love acting, I am happy to return to the role of playwright exclusively for this event."
"I was taken with both the sensitivity and deft craftsmanship of Joan's writing. I selected these four plays for their range of characters, the focus of their stories, and the compelling questions they ask," Matlovsky said.
The plays include some of Lipkin's most widely produced plays including "Crab Cakes" and "Are You Married?" as well as the world premiere of a brand-new play written specifically for Zoom and to recognize the challenges of the pandemic: "Afternoon Zoom with Zack."
Free, Pre-Registration Required
Attendance to the event is free but registration is required. Register for the event here.
Additional information including a program will be available at Ego Actus here.
More about the Works Performed on Dec. 8
Published in Best American Short Plays, "Crab Cakes" comically depicts the unorthodox erotic exchanges of a heterosexual couple as a response to the economic climate.
A winner in the St. Louis Tennessee Williams Festival, "Are You Married?" explores the concerns of homophobia and racism between a white lesbian and an African-American nurse around a probable cancer diagnosis.
"Afternoon Zoom with Zack" portrays the wistful imagination and enduring friendship of two teenagers in very different households during the pandemic.
In "Ferguson," a white gay male millennial couple have very different responses to the Black Lives Matter Movement that will either bring them closer together or break them apart.