Webster Music Student, Alumni Attend Local MCDA Annual Conference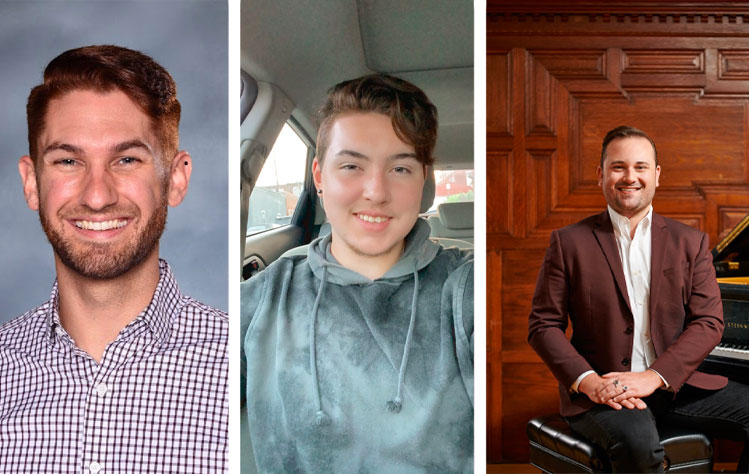 Webster University music student Ashton Rogers (above center) and Department of Music alumni Kurtis Heinrich (above left) and Connor Scott (above right) attended the annual conference of the Missouri Choral Directors Association (MCDA) July 26–29, 2021, in Springfield, Missouri.
Ashton Rogers (BM Education Vocal/General '23)
Rogers presented "From Alto to Baritone: The Journey of a Transitioning College Student." A former voice student of Maria A. Ellis and current undergraduate at Webster, Rogers spoke on his journey of strength and determination as a trans musician in high school and his vocal transition from alto to baritone during his first years as an undergraduate.
Although more research is being done on transgender vocalists, this session allowed music educators to hear first-hand how gender segregation in their classrooms may be holding their students back.
Kurtis Heinrich (MA Music '21)
Heinrich was invited to give two presentations based on his work as part of the Master of Arts in Music degree. "Adolescent Voice Pedagogy Part 1: The Physiology of the Changing Voice" featured an overview of the leading research and science behind the physiological changes singers experience during the adolescent voice change. "Adolescent Voice Pedagogy Part 2: Practical Applications" featured practical exercises and teaching methods to implement in classrooms and rehearsals to arm adolescent singers for success in navigating the voice change.
Heinrich, an alumnus of the graduate program in the Department of Music, is the Choir Director at Pattonville Heights Middle School.
Connor Scott (BM Education Choral Music '16)
Scott received the Jeff Sandquist Presidential Award of Excellence. "I am very proud and honored to receive the Jeff Sandquist Presidential Award of Excellence from MCDA President, Stephen Rew," said Scott. "Together with Amy Krinke, MCDA's incoming president, the three of us spent many hours recreating the audition process for the All-District and All-State choir during the 2020-21 school year for pandemic protocols. I am grateful to both Stephen and Amy for giving me the opportunity to work for MCDA in this capacity."
Scott served MCDA as the All-District Choir Coordinator during the pandemic. He taught in the Parkway School District from 2018-2021, most recently as choir director at Parkway South High School and was a National Finalist with the Parkway South High School Choirs for the American Prize in Conducting - High School Division, 2021.
He is beginning his doctoral studies in Choral Conducting at the University of Southern California Thornton School of Music this fall, and will also serve as the Assistant Conductor of Choral Arts Initiative, a Los Angeles based professional choral ensemble.