Reeg ARC Open House Celebrates Center's Expansion, Services
The Webster University community thanked Rob and Cynthia Reeg for their support of an expanded Reeg Academic Resource Center at a ribbon-cutting event on Oct. 11. The open house enabled visitors to tour the expanded space, many of whom were visiting for the first time since renovations completed during the pandemic.
A $300,000 donation from the Reegs funded the expansion of the center, which offers a variety of resources and support to students to help them achieve academic success. The following video, also shared at the event, details some of the services and impact the Reeg ARC makes possible for students throughout Webster's campus network:
The Reegs have been longtime supporters of Webster University. Rob Reeg currently recently completed a term as chair of the University's Board of Trustees and continues to serve as a trustee. Cindy Reeg is an award-winning children's book author.
"We have been blessed in our professional lives, and we are so happy we could make this happen," Rob Reeg said in remarks before the ribbon-cutting. "We are incredibly fortunate that we could help out in this way."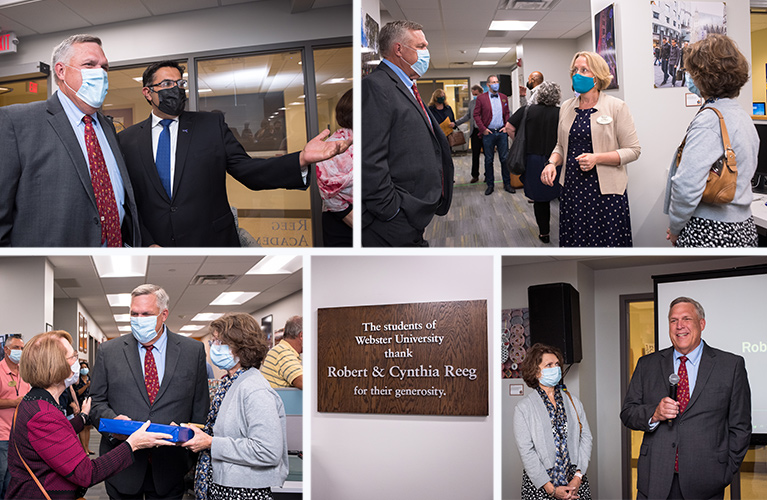 Chancellor Elizabeth (Beth) J. Stroble and President Julian Z. Schuster also spoke at the event, thanking the Reegs and noting how the services of the ARC have grown over time as Webster has learned more about how students benefit from different modes of academic support, counseling, tutoring and more.
The Reeg Academic Resource Center provides academic resources, support, advocacy and access through relationships that empower students across the worldwide Webster University community. Services include academic counseling, assistive technology, disability accommodations, a testing center, a tutoring program and writing services. The Reeg ARC also provides resources and programming for academic integrity awareness and education, as well as programming and support for conditionally admitted students.
Learn more at webster.edu/arc.
Pictured at top: Sumit Verma, chair of the board of trustees; President Julian Z. Schuster; Chancellor Elizabeth (Beth) J. Stroble; Cynthia and Rob Reeg; Erica Ellard, director of the Reeg Academic Resource Center
Photos by Carol Green, The Graceful Lens