Webster Alumna Susan Gay Burns Honored at Annual Society Dinner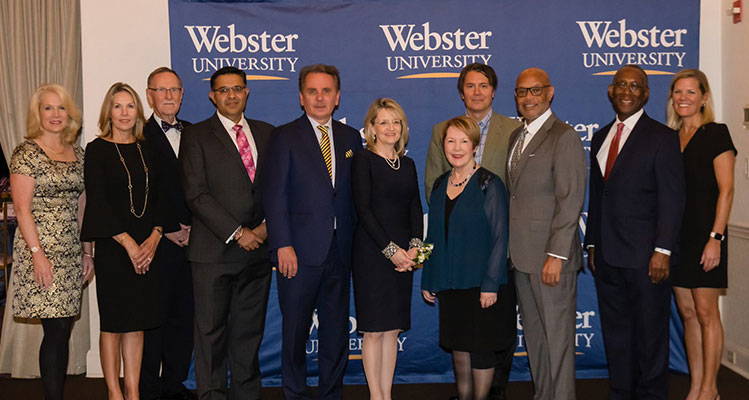 Photo: Chancellor Elizabeth (Beth) J. Stroble, President Julian Z. Schuster, Visionary Award Honoree Gay Burns pictured with Webster University's Board of Trustees
Susan (Gay) Burns, a Webster University alumna and vice chair for the Board of Trustees, was honored at the annual Webster Society Dinner on Nov. 9. A 1994 Master of Business Administration graduate, Burns has led a successful and tenured career in human resources management around the world.
A member of the 1915, Legacy, and Webster Societies, Burns' passion for philanthropy and experience in corporate partnerships has supported many initiatives at Webster.
"I care about people and believe the best way to do that is through education," Burns said.
Her commitment to giving back and supporting the legacy of others led her to establish the S. Gay Burns-Meyers Endowed Scholarship, which provides scholarships to students in the George Herbert Walker School of Business & Technology Mathematics and Human Resources programs. Beyond founding the endowed scholarship, Burns has supported efforts for the Front-Line Responders fund, the Chancellor's Vision Fund, and Webster's University's diversity, equity, and inclusion initiatives.
"My history begins with really strong women who didn't have much, but believed in education, and giving others love and generosity with whatever they could," Burns said.
The Visionary Award honors a person or organization with a long-standing commitment to helping advance the institutional mission of Webster University.
In addition to providing a tribute to Visionary Award recipients, the annual Webster Society Dinner brings together members of three donor recognition societies:
1915 Society, whose members have a combined lifetime giving of a milestone amount that allows Webster University programs to expand and grow;
Legacy Society, whose members have included Webster University in their estate plans to provide for the gift of education for years to come;
Webster Society, whose members provide annual gifts that immediately impact Webster students, programs, and vision.
Held at the historic The Coronado in midtown St. Louis, this event enables donors to hear Webster highlights while engaging with one another, University leadership, and current students such as the Student Ambassadors.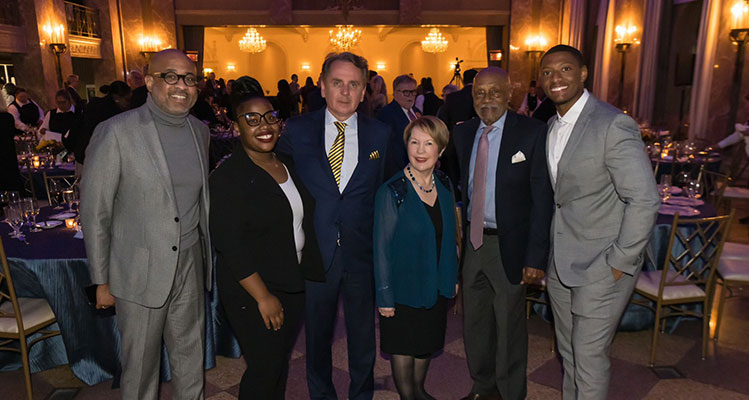 Photo (left to right): Chief Diversity Officer Vincent C. Flewellen, Suggs Scholar Emerald DuBose, President Julian Z. Schuster, Chancellor Elizabeth (Beth) J. Stroble, Dr. Donald M. Suggs, Suggs Scholar Gerald Burton, Jr.
To learn more about opportunities to support the University's commitment to providing high-quality learning experiences, visit Webster's Giving page.