2022 Commencement Speaker Djibril Diallo Receives MIPAD Lifetime Achievement Award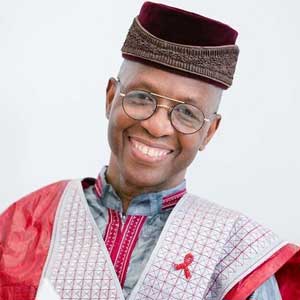 Djibril Diallo, president and CEO of the African Renaissance and Diaspora Network (ARDN) and Webster University's 2022 Commencement speaker, has received the 2022 Most Influential People of African Descent (MIPAD) Lifetime Achievement Award, under the pillar of development, for "his lifelong efforts in mobilizing people, across the world, to commit to advancing issues impacting people of African Descent worldwide."
"If we continue at the current pace, it will take at least 100 years for women and girls to enjoy the equal dignity and rights promised to them [in the Universal Declaration of Human Rights adopted] 74 years ago," Diallo said. "They should not have to wait any longer. Our Red Card Campaign to put an end to all forms of gender-based discrimination and violence envisions a world where women enjoy true freedom in all aspects of their lives, and the voices of all people can be heard equally."
In March 2020, Webster University Chancellor Elizabeth (Beth) J. Stroble, helped launch ARDN's international "Red Card" Campaign at the United Nations' New York headquarters. The campaign raises awareness about domestic violence and gathers personal pledges from people around the world to help raise awareness of discrimination and violence against women.
Since then, the University has hosted several "Red Card Day" events, including last year when the City of Webster Groves declared Oct. 11 as "Red Card Pledge Day."
Webster University and ARDN formed a partnership in 2017 to collaborate with various awareness campaigns affiliated with the United Nations Sustainable Development Goals. These projects allow students to receive hands-on experience with projects pertaining to AIDS in Africa and the United States, including:
Communications initiatives and projects involving digital media production, social media and gaming;
Public health initiatives, including public policy and community engagement;
Executive leadership initiatives, including thought leadership.
ARDN works to support and further the sustainable development processes of the United Nations as they relate to Africa and the African diaspora. ARDN works with government, educators, artists and other groups to help raise awareness of Africa and African issues. ARDN also collaborates with HIV-related objectives of the United Nations on various public health awareness campaigns including the Protect the Goal campaign, which worked with the 2014 FIFA World Cup to raise global awareness of HIV, encouraging young people to commit to HIV prevention, and emphasize the importance of antiretroviral treatment.
MIPAD, which issued the award to Diallo, is a global civil society initiative in support of the United Nations International Decade for People of African Descent (UN IDPAD).
Proclaimed by the UN General Assembly Resolution 68/237, the award process involves spotlighting individual achievements from the year 2015 through 2024 in line with three pillars: recognition, justice and development.
Diallo was presented with the Continental and Diaspora honor during the MIPAD 100 class of 2022 Recognition and Awards Ceremony, held on Oct. 2 at the margins of the United Nations General Assembly in New York.
Other high-profile recipients of the award include Mayor of New York City, Hon. Eric Adams, former First Vice President of Costa Rica, Hon. Epsy Campbell-Barr, among others.
In August, Diallo received the 2022 National Association of Black Journalists (NABJ) Founders Award during the 47th NABJ Convention. The NABJ Founders Award annually recognizes an individual who has been a great supporter of the organization.