Webster Grad's Film Shortlisted for an Oscar, Wins Prestigious Journalism Award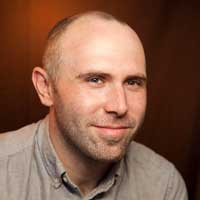 In the midst of the pandemic in 2020, Webster University School of Communications graduate Drew Jordan '05 and his New York Times Visual Investigations team won a highly coveted Pulitzer for their work on exposing Russian shadow warfare in Syria. Earlier this year, the team struck gold again, becoming shortlisted for an Oscar and earning a prestigious journalism award.
The project that led to this accomplishment is the short documentary film "Day of Rage," which offers a panoramic look into the U.S. Capitol riot on Jan. 6, 2021. Jordan said that most of the footage was provided using open-source information, which is information that anyone can find online.
Much of the open source information came from cellphone videos, surveillance footage from inside the Capitol, police body-camera videos, and internal police radio recordings, but Jordan said they also secured testimonies and quotes from different representatives who were at the Capitol on that day.
The entire project took more than six months. "We had thousands upon thousands of video clips to sift through, and that took months," Jordan said. "And I went through maybe a tenth of the stuff that our other two editors did to put the bulk of the project together."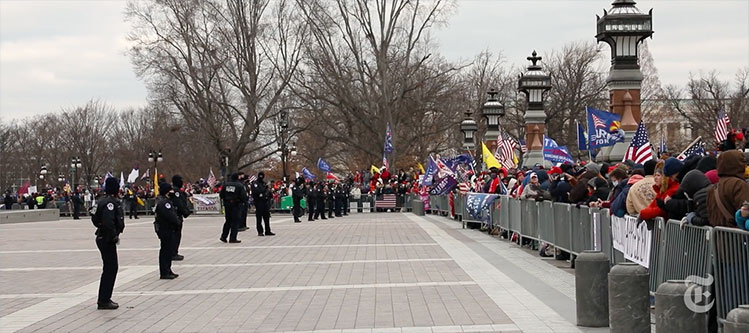 Above: From the "Day of Rage" documentary film
Jordan said that the purpose of the 40-minute film was to paint a much bigger picture and to give a more detailed, concise timeline of the events. "As the months went on, we weren't seeing a very concise wrap up of what had happened," he said. "We wanted to give a detailed account of not just how people got into the Capitol, but in what order, what groups, and how things led to where they did, just really show how violent, emotional, organized, and chaotic it was all at the same time. It really was just organized chaos."
The most challenging part of the project for Jordan was the scope of it. "To be inundated with this content like day after day, while you're working on a project, can weigh on you. It was like a really big exercise from the graphics side to balance all of this really intense, no-room-to-breathe footage and weave all that information together with a very long narrative."
They were honored last month when the film was "shortlisted" for an Oscar. Shortlisting means the film was included among a list of potential Oscar nominees that was sent to members of the Academy of Motion Pictures for consideration for an award. The film did not receive enough votes to receive a nomination, but Jordan said that being shortlisted was exciting.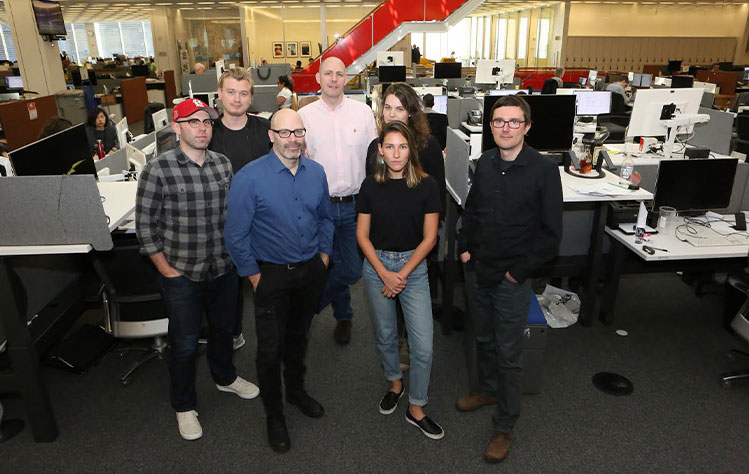 Above: Jordan (far left) with the New York Times Investigative Team.
But he is not taking the credit for the shortlisting; if there was one thing he emphasized, it was that it was a team effort. "I work on this great team that does innovative things and I think our team is one of the first in the news industry, maybe in open-source reporting in general, to do these kinds of video stories and presentations. Being at the forefront of that has been super rewarding."
Jordan, who studied photography, said that his time at Webster has helped prepare him for the place he is at now in his career as a graphic designer. "There's a lot of lighting techniques I learned in my photography classes that I still use in 3D models and some of my 2D work," he said. "Webster really gave me a space to just have the freedom to think more creatively."
That creativity has clearly payed off. Just last week, the team learned that they had won a 2022 duPont-Columbia Award, which is given to journalists to honor news stories for the strength of their reporting, storytelling and impact in the public interest.
Jordan said that the most gratifying part about the whole experience has been the audience reception. "To see that payoff, to see that, we were going to not just make a smaller piece to get something out but to take our time and keep building and building to see it turn into this, it feels very rewarding."
View "Day of Rage" at the New York Times site.