2023 Webster University Commencement Snapshot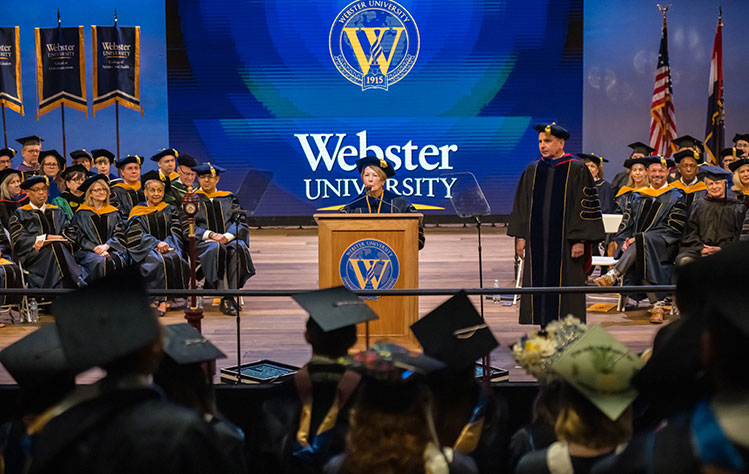 On May 13, Webster University hosted its 104th commencement ceremony on the main campus. The main ceremony featured remarks from Chancellor Elizabeth (Beth) J. Stroble, PhD and President Julian Z. Schuster, PhD. After Chancellor Stroble and President Schuster delivered welcome remarks, Carmen Jacob, CEO of NextGen Information Services Inc. and member of Webster's Board of Trustees shared words of inspiration.
The commencement address was delivered by alumnus Matt Vogel, BFA '93. Vogel is the performer behind Kermit the Frog, Big Bird, and more than a dozen other Muppets on "Sesame Street" and numerous films and television programs.
Vogel was presented with an honorary Doctor of Arts degree for his contribution to his field and the positive impact it has had on the community.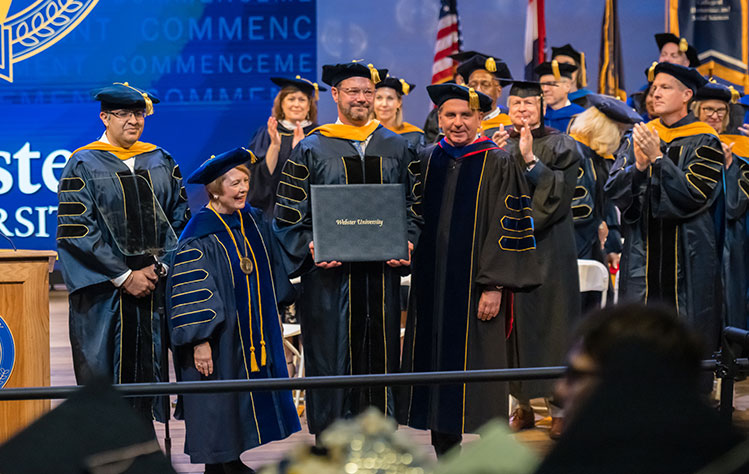 Individual ceremonies for each of the various schools and colleges took place throughout the rest of the day on-campus, divided between the Loretto Hilton Center and Grant Gymnasium. 6,100 people were present on the Webster Groves campus for commencement ceremonies.
The 2023 Webster University Commencement is the first ceremony for the College of Science and Health and College of Humanities and Social Sciences. Prior to the formation of the two new colleges in 2022, these programs were collectively housed in the College of Arts and Sciences.
The Class of 2023 includes the first two graduates, Sarah Morgenthaler and Emerald Habecker, from Webster's Gleich Honors College.
Additional distinctive points about this year's ceremony include:
3,888 total graduates during the 2022-2023 academic year (2,994 graduate students and 894 undergraduate students)
157 undergraduate students received University Academic Honors
280 graduate students received Graduate Academic Honors
Two students graduated with International Distinction
99 countries are represented
49 states are represented - plus the District of Columbia and Puerto Rico
18 graduates are currently stationed overseas with the U.S. Military
The oldest graduate is 80 years old and received a M.A. in Human Services
The youngest graduate is 18 years old and received a B.A. in Games and Game Design
22 faculty/staff members are graduates
16 children/spouses of a faculty/staff member are graduates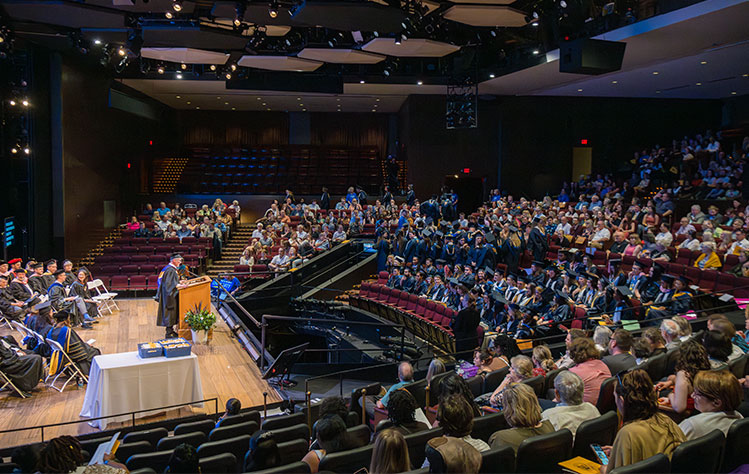 Across the network of Webster campuses around the world, local ceremonies will continue throughout the summer and into the fall depending on local schedules.
Congratulations to the Webster University Class of 2023!