Acting Assistant Secretary for Global Public Affairs Elizabeth Kennedy Trudeau Visits Webster University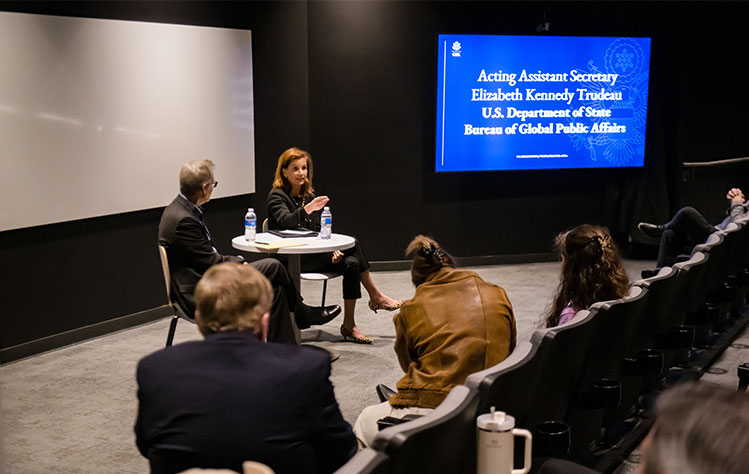 Students were given a unique opportunity to learn from a high-ranking State Department official this week. Acting Assistant Secretary for Global Public Affairs Elizabeth Kennedy Trudeau stopped by the Sverdrup Building on Friday, Jan. 27th to talk to students, faculty and staff in the School of Communications. She also toured the newly renovated Sverdrup Complex and participated in a Q&A panel session.
Trudeau visited Webster University as part of a State Department initiative to connect with students and encourage them to consider careers in Foreign Services. During the Q&A session, Trudeau spoke about her job, responsibilities, and travels with the State Department. Her position focuses on public affairs and press relations. Webster students, faculty, and staff enjoyed having the opportunity to openly discuss current affairs, media literacy, fake news, foreign policy, new initiatives, and old traditions in the State Department.
Trudeau shared details about a new communications internship program in the State Department that will provide opportunities for students to work in U.S. embassies and consulates throughout the world.
In addition to valuable experience, the internship program provides compensation, travel expenses, and a living expense stipend – all of which were implemented to provide greater equity and access as students seek insight into the business of diplomacy and foreign affairs.
Trezette Dixon, Director of the Internship Program within the School of Communications, said Trudeau's dialogue brought value to Webster University students. "Webster University's mission is to ensure high-quality learning experiences that transform students for global citizenship and individual excellence. Acting Assistant Trudeau's visit with our students upheld our mission as she inspired them to believe that world travel and global impact is accessible and attainable for all, through equitable internships and career opportunities with the U.S. Department of State. She emboldened them to believe in their worldwide influence by emphasizing how they can impact other countries' perception of the United States through their representation and distinct diversity."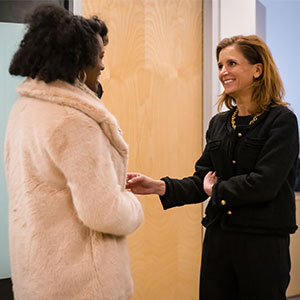 Acting Assistant Secretary Trudeau speaks with School of Communications Internship Director Trezette Dixon, M.Ed.
In addition to the Q&A panel, Trudeau was led on a tour of the redesigned wings of the Sverdrup Building by School of Communications Dean Eric Rothenbuhler. The complex, which recently underwent renovations, now hosts several state-of-the-arts technologies for Webster students to utilize.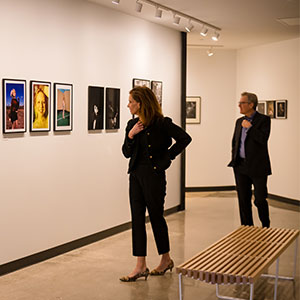 Acting Assistant Secretary Trudeau visits the Kooyumjian Gallery in the School of Communications with Dean Eric Rothenbuhler while touring the the newly renovated Sverdrup Complex.
As part of this segment for the State Department initiative, Trudeau also visited the University of Kansas and Haskell Indian Nations University, both located in Lawrence, Kansas.