Webster University to Present New Works Concert 2023
Webster University's Leigh Gerdine College of Fine Arts (LGCFA) Department of Dance presents the New Works Concert 2023, taking place on Nov. 9 and 10 at 7:30 p.m. and Nov. 11 at 2 p.m. on Stage III, located in the lower level of Webster Hall.

New Works is a performance opportunity for choreographers to try new methodologies and explore new ideas. It is a laboratory for taking risks, growing and seeking feedback. The choreographers for this year's New Works Concert consist of Webster dance alumni Malinda Crump, Josiah Gundersen, Paige Van Nest, and Webster University Faculty Maggi Dueker, Lois Enders, and Tayler Kinner.

Malinda Crump, a Webster Dance alumna, prefaced what her segment of the New Works Concert will explore.

"Over, Under, Around + Through is inspired by a series of lithographs, Die Hölle, by German artist Max Beckmann. The dancers weave through space and around each other much like Beckmann's characters on the page. Drawing on the dynamic energy of these prints, this piece explores the interplay between self, group and environment. How can we weave our movement together with our complicated environment? How do our circumstances change our vocabulary and how do our actions affect our surroundings?"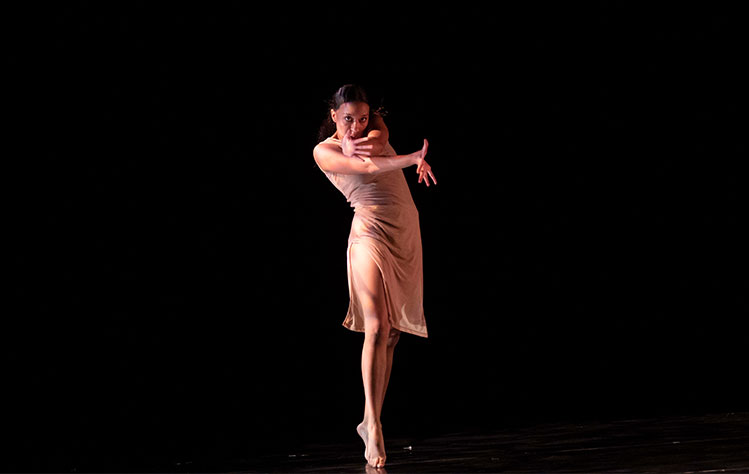 Lois Enders, adjunct faculty of Webster Dance, unveiled the inspiration behind her work.

"Brought to life through the unique gifts and spirit each dancer brings, Way Beyond the Blue celebrates the people or moments in your life that remind you there is grace available, helping you to persevere despite adversity. 'So, to honor the up with the down...moving forward to find your way back (Ben Taylor).'"
Webster Dance Department Chair and Assistant Professor Maggi Dueker gave insight to what will take place in her piece.

"I wanted to explore the interplay between classical and contemporary ballet dance-making and performance for this piece. I also sought to challenge the dancers technically and artistically through choreography that demands both precision and virtuosity."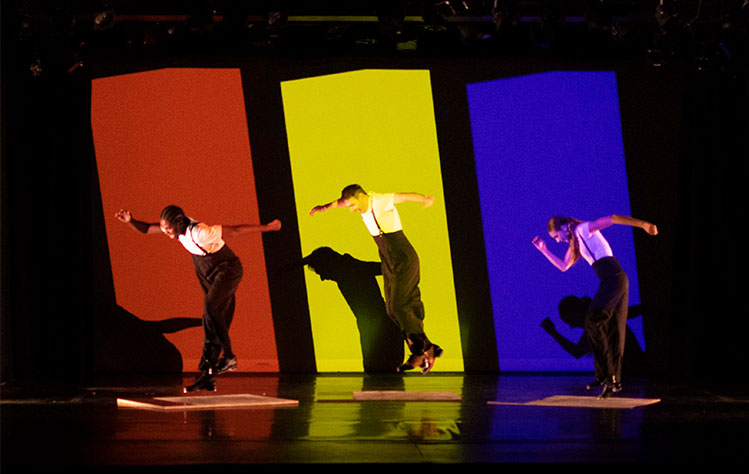 Josiah Gundersen, a Webster Dance alum and current company dancer with Resilience Dance Company, explained that his performance seeks to uncover deeper truths through movement.
"I am interested in the investigation of movement as a tool to uncover the identities and histories from which our bodies stem. How does identity making become fractured within the American landscape? How is abstraction both a removal and an embrace?"
Paige Van Nest, alum of Webster Dance and current dancer with Leverage Dance Theater and MADCO, gave a preview of what to expect from her performance.

"Dicey is a not so black and white reflection on how we weigh risk and reward."

Tayler Kinner, adjunct faculty of Webster Dance and the co-founder and artistic director of Big Plate Dance, also briefly shared.

"Let It Simmer explores the concept of cognitive dissonance, probing the experience of two conflicting thoughts held within one mind."

Tickets for the New Works Concert can be purchased online, although admission is free for Webster students, faculty, and staff.

For more information about the performances or to learn more about the Department of Dance, call the Webster University Fine Arts Hotline at (314) 968-7128, email dance@webster.edu, or visit the department website at www.webster.edu/dance.

Artist Biographies:
MALINDA CRUMP (they/she) has recently returned to her native Missouri after dancing and choreographing in New York City for 16 years. While in New York, Malinda danced with a number of companies, touring nationally and performing at historic dance venues such as the Brooklyn Academy of Music, Judson Church, the Joyce and Jacob's Pillow. Prior to her career in NYC, Malinda danced for several companies in Kansas City. Her choreography has been presented in NYC, San Francisco, Kansas City, and at the American Dance Festival. Malinda holds a BFA in dance and a BA in psychology from Webster University and an MFA in dance from Hollins University.

MAGGI DUEKER (she/her) is an Assistant Professor and the Chair of the Department of Dance at Webster University. She founded and is the Director of Webster's Summer Dance Intensives. Her choreography has been performed by the Webster University Dance Ensemble, Convergence, and at the University of Wisconsin-Milwaukee, American College Dance Festival, Dancing in the Streets, and National Dance Day. Dueker has an MFA in Dance from the University of Wisconsin-Milwaukee and received her BFA in Dance and BA in History from Webster (Summa cum laude). She performed professionally with Kaley Pruitt Dance, Giordano Dance Chicago II, Royal Caribbean International, the Muny, and as a freelance performer with Melissa Thodos and Dancers and the Chicago Arts Project under the direction of Jay Franke. She has previously taught at Northwestern University, the Giordano Dance Center, and currently teaches for the Big Muddy Dance Company. For her work at Webster, Dueker has been nominated for the Excellence in Teaching and Advising Excellence awards.

LOIS ENDERS (she/her) is a Webster University alum, who brings to her alma mater over 25 years of industry experience to instruct students and cultivate the skills they need to succeed.
Lois' performance credits include the First National Tour of Irving Berlin's White Christmas (Assistant Dance Captain/Swing), and five seasons as a Radio City Rockette in the Radio City Christmas Spectacular. Other regional credits include multiple productions with The Muny, STAGES St. Louis, and Riverside Theatre. Lois also danced aboard Norwegian Cruise Lines. As a dance educator, Lois teaches ballet, pointe, precision dance, jazz, tap, and musical theatre dance at various studios and performing arts academies in the St Louis area. She was a presenter at the 2022 Missouri Thespians Conference. Lois was privileged to act as Dance Captain for Variety Theatre's 2019 production of Mary Poppins and Instructor for the 2019-20 season of Variety Children's Dance. As a member of the adjunct faculty at Webster University, Lois is grateful for the opportunity to share the principles and nuances of ballet and jazz with her students-timeless foundations and disciplines pertinent to each student's success.

Though he's been dancing all his life, JOSIAH GUNDERSEN (he/him) took his first dance class when he was 15 at Studio West Dance Academy in Olympia, Washington. After high school he moved to St. Louis to attend Webster University where he received a BFA in Dance with a Modern Emphasis. Since graduating, he has gone on to be a founding member of Resilience Dance Company and is now in his fifth season with the company. He has also worked extensively with independent choreographers Emily Duggins and Jacob Henss. Exploring his own forms of movement through improvisational and choreographic research is also a vital part of his movement experience. When he is not dancing, Josiah works as the taproom manager at Wellspent Brewing Co. and gives walking history tours for the Missouri History Museum.

TAYLER KINNER (she/her) grew up in the cornfields of Springfield, IL. She holds a BFA in Dance and a minor in Advertising & Marketing Communications from Webster University, graduating with departmental honors. Tayler spent several years in San Francisco where she was fortunate enough to work with contemporary and dance-theater companies including RAWdance, Alyssandra Katherine Dance, Tim Rubel Human Shakes, KWENTO, REYES Dance, and several independent artists. She has performed in New York, Berlin, St. Louis, and throughout the Bay Area. Tayler is the Co-Founder and Artistic Director of Big Plate Dance, using improvisation to bring spontaneous and joyful works to audiences. She currently works with Karlovsky & Company Dance, is an adjunct faculty member at Webster University, and lives in St. Louis with her partner and two cats.

PAIGE VAN NEST (she/her) is originally from St. Louis, Missouri and began her training at Arts in Motion School of Dance. She graduated from Webster University in 2019 with a BFA in Modern Dance and a Certificate in Entrepreneurship. Her training outside of Webster University includes Nashville Ballet, The Big Muddy Dance Company, MADCO, and Hubbard Street Dance Chicago. In addition to performing with Leverage Dance Theater and MADCO, Paige has also performed in the KP Project and in the SMTC summer residency projects with Jacob Henss. She looks forward to continuing her movement research in the St. Louis dance community.