Federal Data Shows Webster Boosts Success of Transfer and Pell Students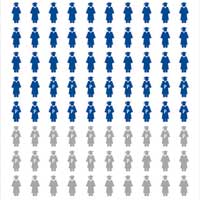 Webster University has higher-than-average six-year completion rates for part-time and full-time transfer students, and for those who receive Pell Grants, according to provisional Integrated Postsecondary Education Data System (IPEDS) statistics released by the U.S. Department of Education's National Center for Education Statistics. The completed data will be released in 2018.
This year's IPEDS data included categories for Pell Grant recipients, part-time students, and students who transfer from community colleges. Additionally, the IPEDS data includes students who earn certificates when previously it only included data about bachelor's degrees. Webster University has significantly expanded its certificate programs in the past five years to nearly 90 undergraduate and graduate programs, a reflection of the national trend of a growing percentage of students opting to earn a certificate instead of or in addition to a bachelor's.
"Webster's integrated approach to student success allows our students the flexibility and easy access to the resources that best fit their unique individual situations. The data show that Webster students attain greater academic success than the average college student," said Webster University President Elizabeth (Beth) J. Stroble. "Webster was in the forefront of identifying shifts in student demographics years ago. We collaborated with faculty and staff to identify new approaches to meet emerging student needs, and the IPEDs data show that we have been highly successful in addressing these challenges."
Webster's Data
According to the new IPEDS data:
The completion rates for Webster students finishing a program are equal or higher than the national average for all private not-for-profit institutions

with the exception

of part-time, first-time students. The exception may be caused by a lack of data, as fewer than 10 students at Webster are in that category.
Webster's completion rates are ranked 2nd among its Missouri competitors, 2nd among all four-year institutions in the St. Louis region, and 11th among its U.S. News & World Report competitors for full-time transfer students. Approximately two-thirds of transfer students at Webster previously attended a community college. About 50 percent of all undergraduates at Webster are transfer students.
Webster students who receive a Pell Grant complete their degrees at nearly the same rate as students who did not receive a Pell. This is highly unusual because, according to the IPEDS data, the average Pell recipients at non-profit universities finish their programs at a rate that is 25 percent lower than non-Pell recipients. Pell Grants are typically awarded to students whose parents earn less than $30,000 per year. More than one-third of all Webster undergraduates qualify for a Pell Grant, and about half of those students are transfer students.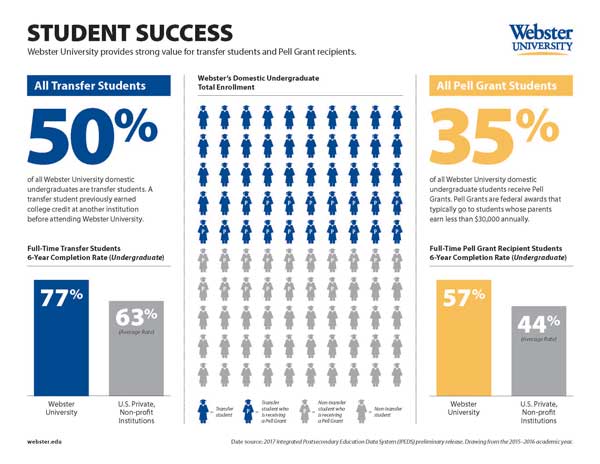 "To contribute to academic success and meet their needs, our students can use both online and physical classes at multiple locations and have a wide array of academic and financial services to help them with their path to graduation," said Julian Schuster, the provost, senior vice president and chief operating officer of Webster University. "This year, we launched a new Student Success Portal that enables our students to track their progress in an academic program and connect directly with advisors and professors for guidance, so that our students know exactly where they are in their academic career and what they need to do to graduate."
Programs for Transfer Students
Webster University's higher-than-average completion rates among transfer students may in part be due to the many services offered to those students:
As a result of these programs, Webster was honored earlier this year by Phi Theta Kappa for the quality of transitional programs available to community college students.
Integrated Support
Other notable programs include those coordinated with Webster's Academic Resource Center, an integrated support center geared for student achievement. The center offers academic counseling, tutoring, writing, and assistive technology support, along with services for students with disabilities and resources for veterans. As part of its effort to enhance student success, the Resource Center also created both the Transitions and the Transitions Academic Prep (TAP) programs, which helps students learn successful college behaviors and build a personalized roadmap to help them thrive.
The University also offers a retention-calling program, a financial resource center, English-language programs for Webster's international students, and more than 220 distinct donor-sponsored scholarships, many of which support more than one student annually. Overall, 95 percent of Webster undergraduates receive financial aid that is not a student loan, and 73 percent receive grants and scholarships.
The new IPEDS data is not the first study this year that has suggested Webster University students achieve greater academic success than at other institutions. In April, CollegeNET named the University as one of the top schools for "Social Mobility" in the St. Louis region and the sixth best school among all private non-profit universities in the United States. One month later, Webster University was one of five institutions lauded by the non-profit St. Louis Graduates and the St. Louis Regional Chamber of Commerce for graduating low income, first generation, underserved minorities with comparatively low debt. Last month, U.S. News & World Report named Webster University as one of the top university's for having one of the most economically diversified student bodies in the United States, a list that Webster has been named to for several years in a row.
To see Webster University's IPEDS data, visit https://nces.ed.gov/collegenavigator/?q=Webster+University&s=all&id=179894.