3rd Women of the Diaspora Summit: COVID-19 and Mental Health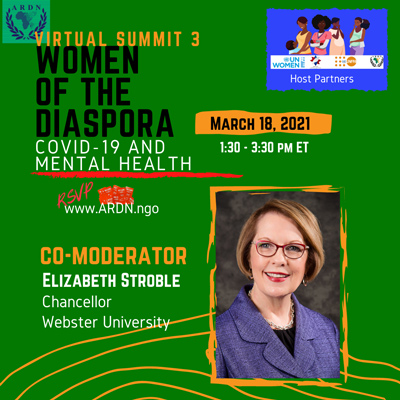 Webster University Chancellor Elizabeth (Beth) J. Stroble will be a co-moderator for ARDN's 3rd Women of the Diaspora Summit: COVID-19 and Mental Health, which will include as a panelist Jameca Woody Cooper, a faculty member in the Webster University School of Education.
The two-hour event on March 18 will parallel the 65th Commission on the Status of Women official agenda. It will include intergenerational speakers from across the diaspora to address the specific mental health threats to women, such as unemployment, gender-based violence, motherhood and racial and gender discrimination.
Chancellor Stroble has participated in the prior summits, leads Webster's partnership with ARDN, and helped launch the Red Card campaign in 2020. Woody Cooper, who regularly handles the issues raised for this summit as part of her practice as a counseling psychologist, is director of Webster's applied educational psychology and school psychology programs. She is a past president of the Association of Black Psychologists (St. Louis Chapter), and is currently the Public Education Coordinator for the Missouri Psychological Association.
Why It Matters: Covid-19 and Mental Health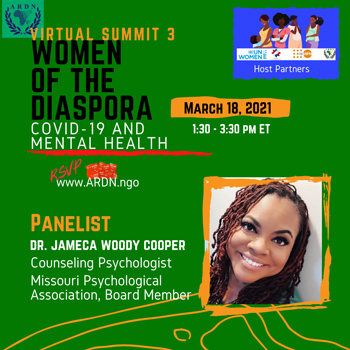 Women of African descent are primary victims of many forms of injustice from racial biases, economic insecurity, and discrimination based on their gender, which increases their vulnerability to mental health challenges and their sense of wellbeing. Perpetration of violence and inherited trauma from long years of racism and slavery expose them to a higher risk of anxiety, depression, thoughts of suicide, PTSD and more. Despite the well documented consequences of mental health in relation to their health and wellbeing (SDG# 3), women of African descent across the diaspora have low service-seeking behavior due to the stigma surrounding mental health issues.
Black women face very specific stresses that are rarely understood amongst mental health specialists. The lack of culturally competent services and easy access to appropriate treatment make it even harder for them to seek professional help when needed. For instance, studies have shown that only 25% of women of color seek mental health care during their lifetime.
During the COVID-19 pandemic, Black women have experienced even greater threats to their mental health. Globally, 70% of the frontline health and social care workers—our essential workers—are women. Their risk of COVID-19 infection is high. Women have been hit hardest by jobs or business losses due to COVID-19. In America, women of color are more likely to have been laid off or put on leave, upending their careers and finances. Women also disproportionately bear the stress attached to maintaining their own and their families 'livelihoods while providing long hours of invisible, unpaid work as they have cared for and educated children during the times of COVID-19 quarantine and isolation in their homes when schools closed their doors.
Webster Community Participation
As with the previous summit held in February, when several Webster campuses and groups organized watch parties and related disussion events around the summit's theme of economic equity (for example, related events at Webster Athens, at Webster Geneva, and at Webster Ghana), members of Webster's worldwide campus network are again encouraged to participate on or around the March 18 summit.
Registration and Agenda
Those who register using the ARDN link will receive the link to the Commission convening, which includes over 700 concurrent sessions over a week's time.
UPDATE, March 16: The Commission on the Status of Women has reached its registration maximum, but ARDN will still live stream its session for those who register at the ARDN site. You can register with ARDN below...:
...and also watch the ARDN summit live on its YouTube or Facebook pages.
About the Women of the Diaspora Summit Series and Red Card Pledge
The Third Women of the Diaspora summit is co-organized by the Republic of Costa Rica, the African Renaissance and Diaspora Network (ARDN), the United Nations Population Fund (UNFPA) and the United Nations Entity for Gender Equality and the Empowerment of Women (UN Women).
The Women of the Diaspora Summit series of summits seeks to address challenges faced by, and celebrate the power, promise and potential of, women and girls everywhere. The theme of the summit is COVID-19 and mental health. In this context, the summit will feature a panel conversation on specific mental health threats to women, such as unemployment, gender-based violence, motherhood and racial and gender discrimination. It will also address best practices to improve women's mental health in the face of COVID-19 challenges, especially for women of the diaspora.
See information and recordings from previous summits here:
Red Card Pledge
Women of the Diaspora is part of the ARDN Red Card Campaign to obtain at least one-million global commitments, by the 2022 Fédération Internationale de Football Association (FIFA) World Cup in Qatar, to give a red card all forms of discrimination and violence against women and girls.
The Red Card Campaign falls within the "Pathway to Solutions" initiative, a special project for the United Nations, spearheaded by ARDN in collaboration with in collaboration with various United Nations system entities, the international community, civil society, the private sector, academia, the world of sport and culture and governments, to popularize the Sustainable Development Goals of the 2030 Agenda for Sustainable Development of the United Nations.