Schuster Presented With National Awards, Honorary Professorship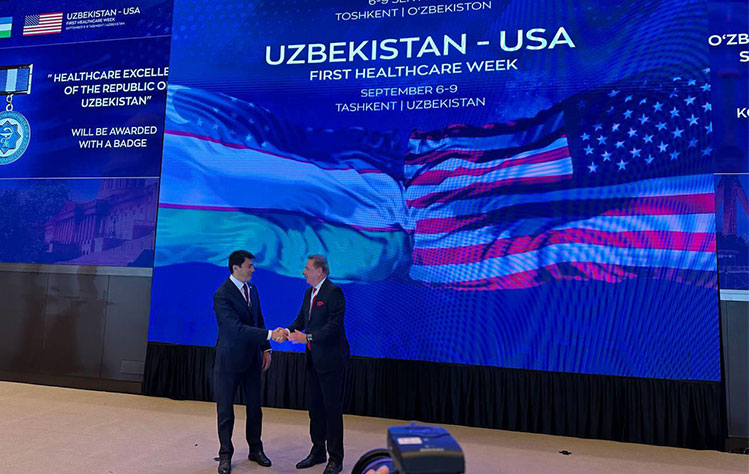 Webster University President Julian Z. Schuster was recently presented with two national awards during his time in the Republic of Uzbekistan: the "Excellence in Higher Education" award, and the "Healthcare Excellence" award.

The "Excellence in Higher Education" award is bestowed on individuals who have made remarkable contributions within the field of higher education. The recipient of this award is recognized for their work, which aligns with the national goals and aspirations of the Republic of Uzbekistan's Ministry of Higher Education, Science, and Innovation.

Ibrokhim Abdurakhmonov, Uzbekistan's minister of higher education, science, and innovations, expressed his gratitude and appreciation to Webster University and Schuster for continued support and consistent efforts to benefit the current and next generation of Uzbekistan – specifically through the launch of Webster's new educational programs in healthcare at Webster University Tashkent.

During a medical forum which took place during the Uzbekistan-USA first healthcare week, Schuster was presented the "Healthcare Excellence of the Republic of Uzbekistan" badge by Amrillo Inoyatov, minister of health of the Republic of Uzbekistan. This award recognizes Schuster's exceptional contributions to healthcare education and global healthcare initiatives.

Schuster was also awarded an Honorary Professorship from the Tashkent Medical Academy. This recognition symbolizes the significant contributions to the field of healthcare education in the Republic of Uzbekistan and reflects a shared commitment to advancing medical knowledge and research.

"I am honored to be recognized as the recipient of two national awards from the Republic of Uzbekistan, and grateful to receive the distinction of honorary professorship from the Tashkent Medical Academy," said Schuster. "Webster will continue to connect students with the knowledge and tools they desire to shape the future of Uzbekistan, specifically within the field of healthcare."

About Webster University in Tashkent: Webster University in Tashkent is an official campus of Webster University based in Missouri, USA. Webster's Tashkent campus was established in 2019 through the decree of the President of the Republic of Uzbekistan. As the premier American university in Central Asia, Webster is committed to ensuring high-quality learning that transforms students for global citizenship and individual excellence.