STEM at Webster University: Strategic Priority for Students and Society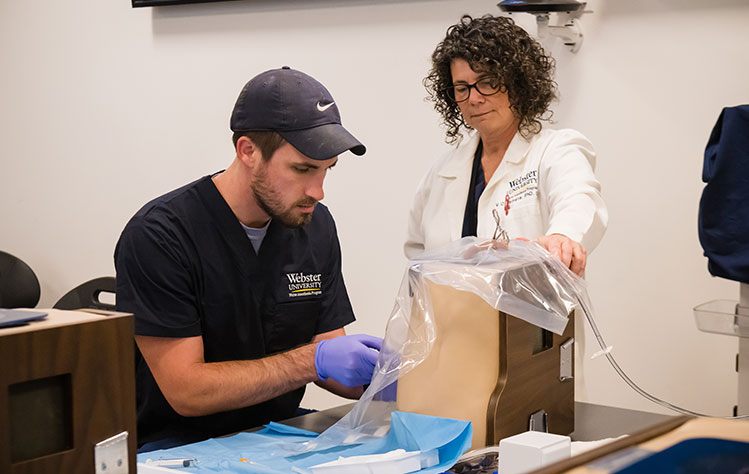 As Webster leads in preparing students for careers that address society's most pressing issues, STEM is a strategic priority. The University has made significant investments in expanding academic programs, opening a new interdisciplinary science building, strengthening research capacity, and creating unique partnerships with institutions and organizations around the world. The result is cutting-edge science, math and technology-related programs provided to communities that need them most.

During a time of transformation, Webster has received more grants in the past decade than it did during its first 100 years of operations. And in the past year, it has initiated several one-of-a-kind partnerships with other institutions – as well as one government – that will serve the needs of students and the community and continue to reinforce Webster's reputation as a rising STEM powerhouse.

"From our founding in 1915, Webster faculty provided programs in the sciences and guided undergraduate research. From that foundation, making STEM a strategic priority has achieved significant growth in the past 10-15 years, in part due to demand from our students and the growing need in the communities we serve for more STEM programs," said Webster University Chancellor Elizabeth (Beth) J. Stroble. "With the support of our alumni, donors, sponsors, and community partners we have upgraded our facilities and technology. The university can more effectively support the incredible talent of our faculty whose knowledge of cutting-edge science and technology is strengthening a national profile in STEM."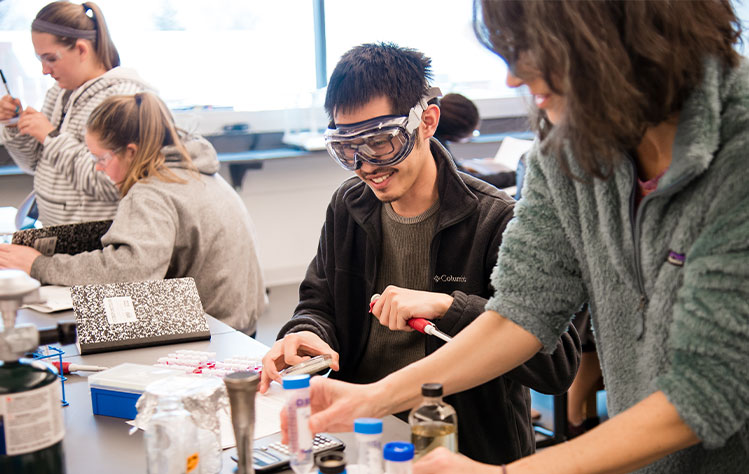 Undergraduate students run an experiment in a biology lab.
In a groundbreaking move, Webster launched a Cybersecurity program at its Colorado Springs location at the request of leadership at the U.S. Air Force in 2013. The program has expanded to multiple campuses in the U.S. and internationally since then, and in 2019 the Bachelor of Science in Computer Science with an Emphasis in Cybersecurity program was named as the first private non-profit university in Missouri to receive accreditation from the National Security Agency and the Department of Homeland Security. Webster's Center holds the prestigious academic excellence designation.
In 2016, Webster literally broke ground on a new interdisciplinary science building that would include 27 laboratories, a teaching kitchen, and a simulated operating room for nurse anesthesiology students. Completed by fall of 2017, it was christened "Browning Hall" after Laurance L. Browning Jr., a long-time business leader, community philanthropist, emeritus trustee, and advocate for science at Webster. Virginia Jackson Browning, his wife, created an endowed professorship in Biological Sciences in his honor. That position is filled by Biology Professor Nicole Miller-Struttmann, who has since built a national reputation for her ground-breaking research at Webster into bee behavior - research that earned her a feature story in Smithsonian Magazine.
Webster University's Interdisciplinary Science Building, completed in fall 2017.
STEM programming has since accelerated, with biology becoming one of the most popular undergraduate majors at the University. Webster's nursing program was named one of the top-ranked nursing programs in the country by U.S. News & World Report. These ground-breaking changes began attracting record number of federal and state awards: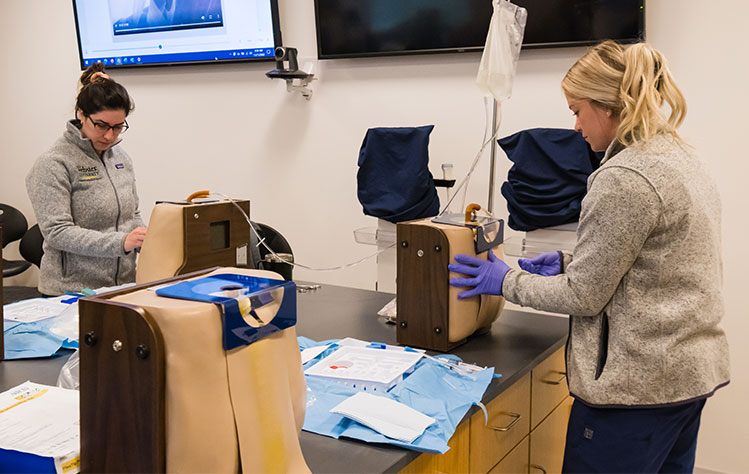 Two students practice with needles in a Doctor of Nurse Anesthesia course.
To further its STEM strategy, Webster University created the College of Science and Health in 2022 to strengthen the collaboration and resources available to its health- and science-related academic units, making the University more flexible in creating new STEM programs for emerging needs and new fields.
This year, the University also created three new partnerships that will expand STEM programs:
The University is meeting a number of STEM related needs beyond health professions and biological sciences. For example, in the George Herbert Walker School of Business & Technology, new programs were created to help prepare future managers of STEM-related projects, offer programs in the field of data analytics, and train future cybersecurity workers. In the College of Science and Health, counseling students and faculty created The First Responder Wellness Group, which studies the mental health needs of first responders in the region and equips future counselors to respond to those needs.
Today, the University is a growing hub for STEM in the community. It now annually hosts a regional conference for counselors that promotes mental health, is the center of a ground-breaking community-based multi-year survey of bee species in the region, and hosts a summer camp for young girls who are interested in micro-biology, just to name a few of the ways the university takes STEM to the community.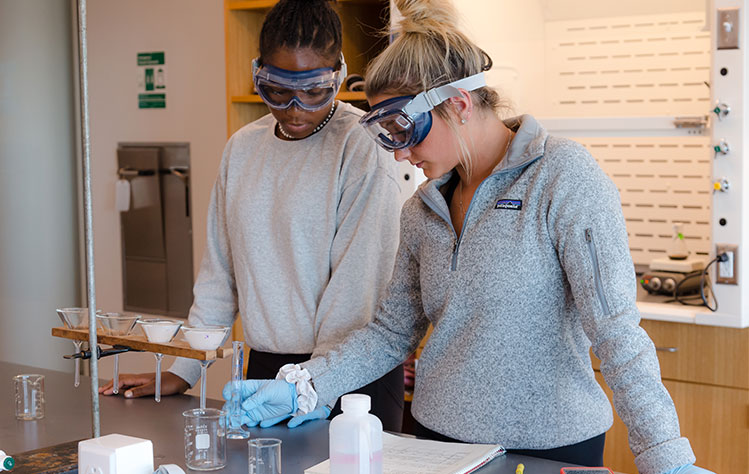 Two undergraduate students perform an experiment in a Browning Hall chemistry lab.